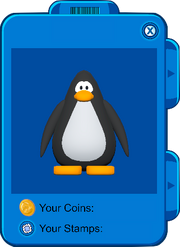 Each player on Club Penguin 3D has their own personal Player Card, which contains the name of the player, their penguin image, their amount of coins, and their stamps. A player card can be accessed by clicking on a penguin in-game.
Features
All player cards include an image of the penguin and the player's name on the top. When a player views their own player card, the amount of coins and stamps they have appears at the bottom. They can click the stamp icon to open their stamp book. In addition, they can open a tab on the right to reveal their inventory, allowing them to wear and change clothing (including pins and backgrounds). They can also remove clothing by clicking the item in their inventory or on their penguin's image.
Icons Bar
When viewing others' player cards, the inventory button and ability to remove clothing are missing. On the bottom of the player card a set of buttons is found, where each one has its own role:
Sending a buddy request (or removing a buddy).
Going to the player's igloo (if they are a buddy).
Sending a postcard from the Postcard Catalog.
Retrieving the player's location (if they are a buddy).
Viewing the player's stamp book.
Reporting a player for misconduct.
Receiving a giveaway item (if they are a mascot).
Accessibility
There are different ways to access player cards, including:
Clicking a penguin in-game.
Clicking a penguin's name in the buddy list.
Clicking a penguin's name in the room list.
Clicking a penguin's message in the chat log.
Trivia
Mascots will use a normal player card when viewing them from the buddy list, meaning you cannot receive their giveaway that way, but you can visit their igloo, retrieve their location, or remove them as a buddy.
Gallery
See also
Community content is available under
CC-BY-SA
unless otherwise noted.